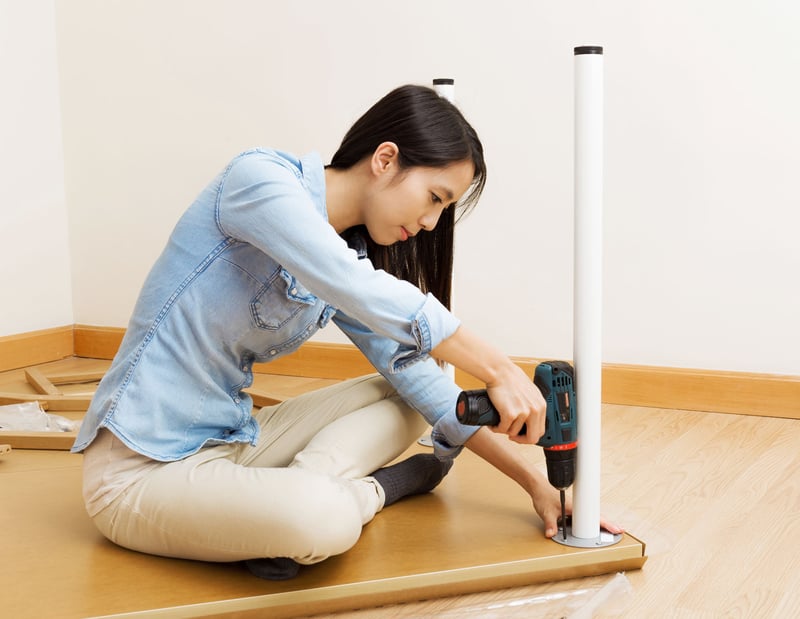 We invest in our children's academic success, encourage their interests and support their emotional wellbeing ... but are we preparing them for the adult world by passing on basic life skills? Here's our list of vital skills all kids should master before leaving home:

Time management skills
Oversleeping and always late? Disorganised and forgetful? Unrealistic ideas about how long tasks will take to complete? Teens who are unable to diarise, meet deadlines and manage their time will come a cropper when they get to university or the workplace. Start with homework planning and mini-projects (eg organising a party, planning a trip, decorating a room, scheduling appointments). It's difficult to learn how to prioritise until you've messed up a few times. Let your child fail and take responsibility for their actions; don't rush in to bail them out every time their school project is late or the alarm clock doesn't go off.
How to do the laundry
I know grown men in their twenties (sorry, they are usually men) who still take their laundry to their mums every weekend. Yet separating whites from coloureds, operating a washing machine, matching up socks and ironing are all skills that can be taught when your child is still in Primary School.
Repairing clothes
Sewing on buttons, patching tears, stitching hems. Give your child their own 'emergency repair kit' of needles, thread, pins etc while they are living at home and let them take responsibility for their own repairs.
Navigation skills – without a GPS
Can your child find their way around a building, a campus, an airport, a town, a country using maps, information and good old-fashioned communication? Do they know East from West? Can they read a map? Understand a timetable? Are they confident asking for directions and interpreting them? Start your kids young – let them find the train platform or airport gate, plot a route on a map, find their way around a shopping centre from a plan, check bus times and work out how long it will take to get from A to B .
Basic car maintenance and management skills
At a bare minimum, this might include: washing car, checking tyres, filling the tank with petrol, understanding what all the flashing lights on the dashboard mean and ensuring rego, servicing and insurance are up to date.
Sticking to a budget / understanding money
How to open a bank account, apply for a credit card, read a bank statement, manage cash flow, save for something special, give to charity, have an understanding of interest and debt. From the age of 12 your child can have an EFTPOS card for their own bank account. Consider paying their allowance directly into their bank account each month and give them practical experience of budgeting and financial planning.
Cooking skills
Can they make a meal from scratch? Can they make five meals from scratch? They don't need to know how to make fancy sauces or soufflés but should master some basics like boiling an egg, roasting a chicken and whipping up a passable spaghetti Bolognese before they leave home.
First aid
Does your child know what medication to take for headaches, colds and indigestion or the number to call in an emergency? Do they know what to do about animal bites, cuts and bruises or burns? Do they know their Medicare number and how to register with a doctor?
Home maintenance and basic DIY
How to clean an oven, operate a vacuum cleaner, defrost a freezer, plunge a sink, use a screwdriver, build flat pack furniture, drill or fill a hole in a wall. Get them involved in all of this long before they reach Year 12.
Make their own appointments
Most children rely on their parents to schedule appointments with doctors, dentists, delivery companies, tradies etc. In the 'real world', they will need to do this for themselves. Give them the opportunity to start doing this while they are living at home – eg order a pizza, book an event, arrange an interview with a potential employer.
Be employable
Can your child market themselves well, both on paper (resumé, covering letter) and in person? Are they punctual, reliable and hard working? Do they communicate well and maintain eye contact when talking to someone? Voluntary work, Saturday jobs and work experience are great opportunities for teens to learn and prepare themselves for the workplace. Just make sure you're not one of those parents who write the CV, ferry their child to and from work or call the employer when their child is too sick to show up. These are skills kids need to learn for themselves.
---
Tips for parents
Start young
Parents can start teaching their children many of these skills when they are still in Primary School. Include your child in family decisions, planning and daily chores.
Demonstrate
Show your child how to clean a toilet or iron a shirt. Explain what all the data on your bank statement means. Plan a journey with them, looking at times, maps and routes together. Show them your car service log book.
Practice
Don't expect your child to get things right first time. Break things down into smaller tasks/goals where necessary. For example, they may learn to sew on a button before they've mastered the fiddly needle threading bit, iron pillowcases before they can tackle shirts or prepare salads and cold desserts before using hot stoves and ovens.
Provide information
Some kids love to read and research things for themselves. Give them access to recipe books, instruction manuals, diagrams, fact sheets, maps, notes ... or suggest they google or YouTube for demos.
Do less
If you do everything for your children, they have little need or inclination to learn practical skills for themselves. As they get older, expect more of your children. Give them greater responsibility and more opportunities to practice those life skills.
Let them fail...
Mistakes are good (providing they're not life threatening!). This is how we learn. Take a deep breath and let your child incinerate the Sunday roast, miss their school assignment deadline or cope without an allowance for the rest of the month because they've blown their budget. They will learn from the consequences.
... but be there for them
The wonderful thing about teaching life skills to your children is that they get to learn in a safe environment - rather than alone, in desperate confusion. You can offer reassurance and encouragement, stand by them as they try something new and intervene before they flood the house or worse.
What did we miss?
What important life skills do you think young adults need to master before they leave home? Let us know in your comments below.
Related Blogs