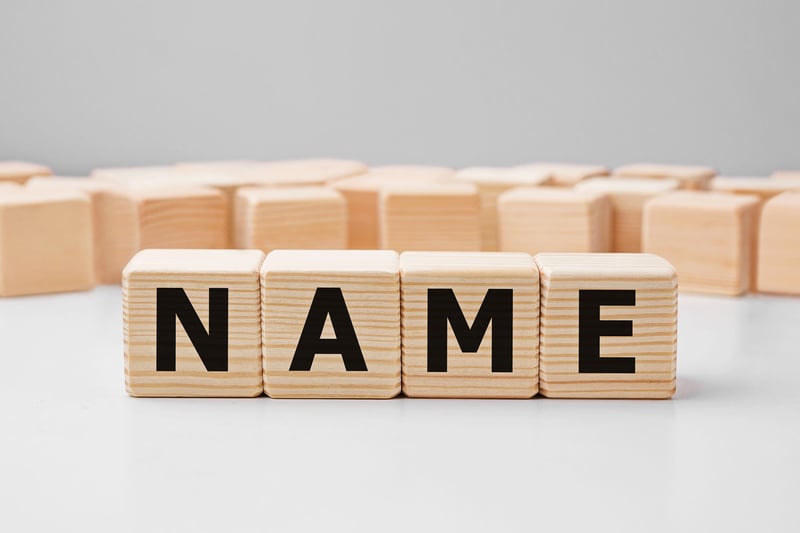 A few years ago, there were more baby girls called 'Khaleesi' than 'Britney', as parents across the English-speaking world named their daughters after a character from the all-conquering Game of Thrones books and TV series. Since the series ended in 2019, however, the trend has nosedived, with precisely zero registrations of the name 'Khaleesi' in the USA so far this year. This has me wondering about the influence of pop culture on children's names.
Religious communities have always named their children after spiritual and scriptural heroes. Many, many Muslim boys are called 'Mohammed', for example. In our own faith tradition, biblical names are very popular for their strength and cultural capital. But, the emergence of names from less salubrious sources seems to be growing.
My brother, now a middle-aged man, may be the only "Jarrod" of his generation. Mum so loved the Big Valley character from the 1960's series, she defied family tradition (though his middle name followed norms). There are many Jarrods around now (with a variety of spellings) but almost none from 1967. My own son is named for my favourite (Irish) Hollywood tough guy.
I guess it's a playful trend. Of course, the 'danger' is that pop culture moves very fast. While Game of Thrones was wildly popular a couple of years ago, it's hard to imagine it being a conversation piece even in three years' time. Not that that's a disadvantage but it does anchor the child in a distinct slice of history. Remember the surge of Wendys after Peter Pan? Or the Dianas born in 1981? And I'm betting 'Dylan' (as a first name) didn't exist outside of the Celts much before Bob.
A couple of recent examples for girls include 'Ariel' (from Disney's adaptation of The Little Mermaid), 'Bella' (from Disney's adaptation of Beauty and the Beast and Stephanie Meyer's Twilight franchise), and 'Elle' (a perfect storm of Elle McPherson and the Legally Blonde trilogy). Mr Timberlake of boy-band, NSYNC, sparked a 'Justin' surge in the late 1990s. Other boys' names experienced a birth or resurgence because of TV or movies. 'Luke' was a steady contender until the Star Wars franchise made it a favourite. Let's not forget 'Leonardo' (Titanic), and 'Noah' (ER, and The Notebook).
Of course, the reverse is also true. Do you know an 'Ethel' or 'Betty' under sixty? Even the once-popular 'Sandra' has plummeted. And 'Kylie'. What about 'Cecil'? Or 'Percy'? Where's 'Merle'? You'll not hear them called from the playground. Some names seem to be classic, which bucks the trendy schtick and makes me consider just how is a classic made? Think 'Emily', 'Charlotte', 'Elizabeth'. What about 'William', 'Charlie', 'Benjamin'? They seem to have always been popular, even as some slide into reliable, middle-name status. Or the back half of a dreaded hyphen.
Pacemakers, like royalty and celebrities, have mixed influence. There was a collective rolling of eyes in 2002, when Michael Jackson named his son 'Prince Michael Jackson II' (nickname 'Blanket') when we wondered who was Prince Michael Jackson I? There was no visible moniker splash after the births of Princesses Beatrice and Eugenie (now eighth and ninth in British royal succession, respectively) were born. Few have followed 'Apple' (Martin/Paltrow), 'Dweezil' (Zappa/Sloatman), or 'Huckleberry'(Grylls/Knight). It's unlikely you'll hear the names 'Poppy', 'Daisy', 'Petal', 'Buddy' and 'River' together outside of the Oliver household.
Curiously, some names are acceptably unisex, often with nods to spelling variations. 'Taylor', 'Courtney', 'Blake', and 'Cameron' are obvious modern examples, but what of 'Alex', 'Jordan', 'Jessie', or 'Francis', all quite traditional?
Some countries, like Denmark, insist parents use names from a set register. Other countries, such as Iceland, require that names fit grammatically in the language. For Germans, a child's name must clearly signal gender. In China, the name must use only simplified Chinese characters in order to read by a scanner. In the Australian state of Victoria, only 38 characters may be used (including spaces) for the entire registered name. Most countries, though, simply require that names not cause offence or embarrassment. So, those parents (all true) wishing to name their child 'Satan', 'Hitler', 'Monkey', 'Pluto', 'Aryan Nation', or 'Metallica' were all sadly disappointed by their birth registry offices. Perhaps they were still affected by the birthing gas?
Whether we're conscious of it or not, naming our kids is very rarely the decision of an individual. No parent is an island, to borrow from Donne, as the winds of fashion, heritage, history, and familial expectation blow. For something that is truly ours but came from someone else, we use all the time but which never wears out, we often hear but rarely say, there really is much in a name.
Related Links
Baby Names Australia 2022
This McCrindle report lists the 100 most popular Australian boys and girls names and outlines current and historical naming trends.
Decade Name Generator
What would your name have been 10, 50, 100 years ago? If your name was the 56th most popular girls name in the year of your birth, what would your equivalent name have been at the turn of the 19th century? This fun online tool, published by Time magazine, is based on American data but provides a fascinating snapshot of popular taste over time.
Related Blogs