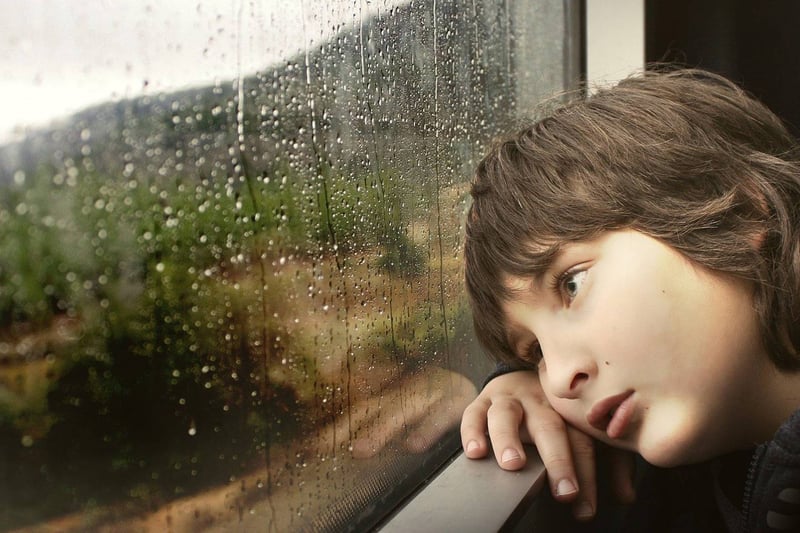 Updated: 14/02/2020
Kids. Rain. Gold Coast. Ideas?
Beautiful beaches, amazing weather, theme parks, promenades and playgrounds - the Gold Coast has it all.
And then it rains.
Yes there's the cinemas, the bowling alleys and the highly congested children's play centres ... but then what? How do you keep the kids entertained and off the computer games during the soggy season?
Here are my eight (highly subjective) top ideas for what to do with the kids on the Gold Coast when it pours.
1. Get wet
Trust a pommy to state the obvious ... but where I come from we're used to doing things in the rain; if we sat inside waiting for the sun to come out, we'd never leave the house!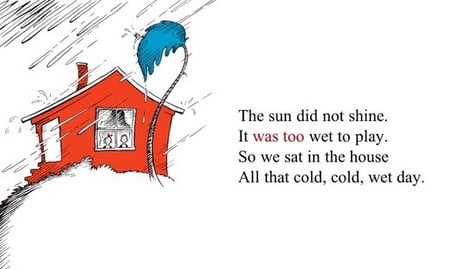 (Courtesy of Dr Seuss's The Cat in the Hat)
Now I'm not suggesting you go out and play in the middle of a thunderstorm or Cyclone Debbie but there's so much to enjoy on the GC in a light to moderate drizzle.
Fun without the crowds

If you're going to get wet anyway, why not enjoy a water activity while everyone else is hiding away indoors? Bingo! No queues!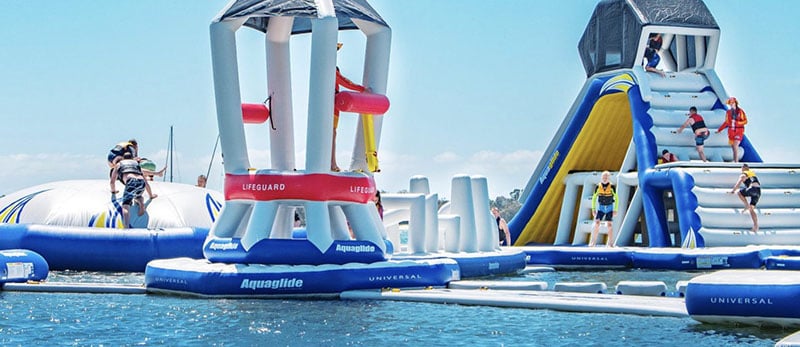 GC Aqua Park, Southport
Go for a walk

Put on your boots and raincoats and go for a hike - the perfect drizzly weather activity. We live in such a great area, blessed with an abundance of natural beauty. Throw a change of clothes and a towel in the car then enjoy a hot chocolate and sticky bun at a nearby café afterwards once you've 'earned' it.

Do check the weather forecast and rainfall radar beforehand to ensure you're not going to get stranded in the middle of a thunderstorm. And make sure you are wearing sensible footwear and clothing - I once wore thongs to navigate the muddy puddles at Springbrook and got savaged by leeches.

Try: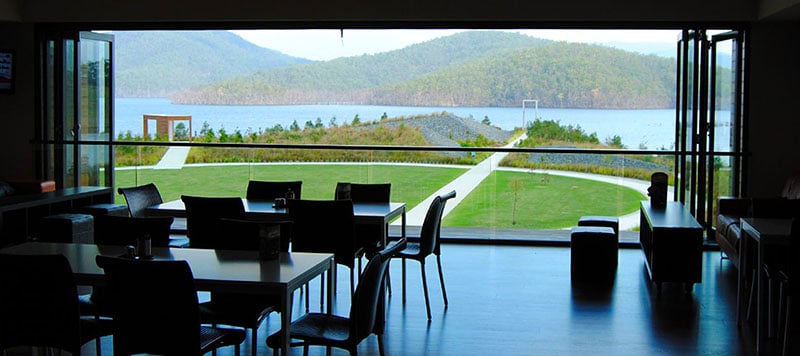 Amazing view from the View Cafe, Hinze Dam
2. Do an indoor sport
Try something active you wouldn't usually do:
Book a badminton court at Gold Coast Recreation Precinct, a squash court at Palm Beach Aquatic Centre or Nerang Squash and Fitness or try table tennis at the Gold Coast Table Tennis Centre in Molendinar.


Go rollerskating

at the

Epic Skate Centre

in Tweed Heads or

ice-skating

at

Iceland

, Bundall, or

Planet Chill Ice Skating Rink, Surfers Paradise.


Try indoor rock climbing at Paramount Adventures, West Burleigh, or the Gold Coast Recreation Centre. If you have the money to burn, Game Over, in Helensvale, has some great beginner-level 'clip and climb' walls and you can also try go-karting, laser tag or

arcade games

while you're there.

In Robina, over-10s can enjoy

bouldering

(rope/harness free climbing) at Alpine Indoor Climbing, while all ages can boulder in the amazing spaces at Core Climbing in Carrara.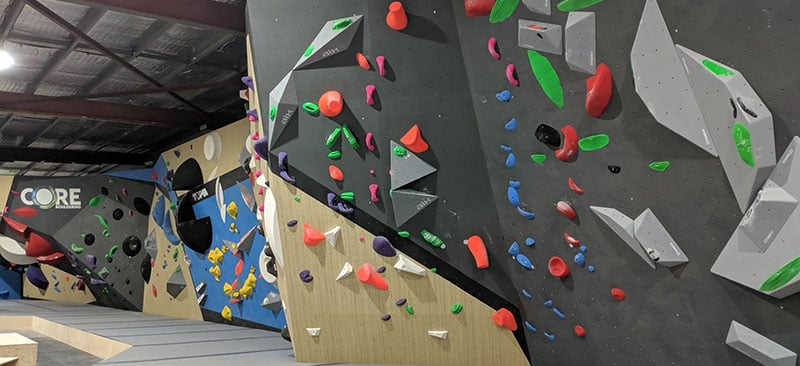 Core Climbing, Carrara
Practise your swing at Topgolf — a high-tech driving range in Oxenford. Micro-chipped golf balls keep track of every shot.


Bounce (Burleigh) and Jummps Indoor Trampoline Park

(Parkwood)

offer wall-to-wall

trampoline

fun.




Is bouncing/sliding on huge inflatables a sport? We think so! Inflatable World

in Arundel houses a whole range of inflatable slides, obstacle courses and activities all under one roof. It can, however, get busy ... and hot!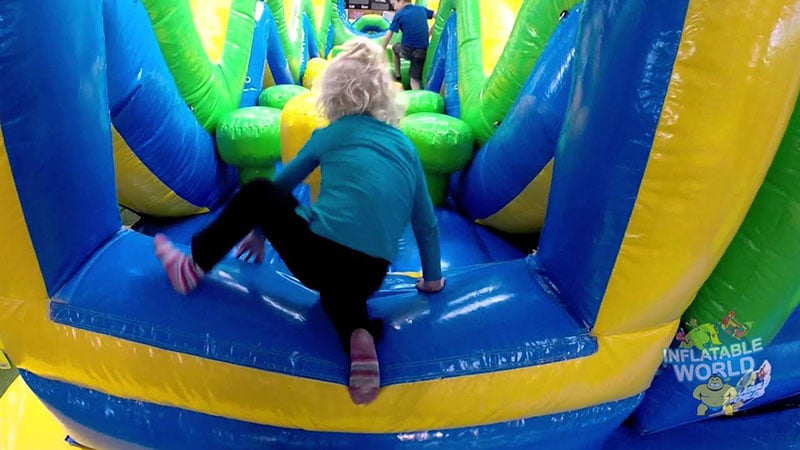 Inflatable World, Arundel
3. Sing your blues away
Karaoke of course! Hire a private room in one of the Gold Coasts' great karaoke bars and enjoy some fun family sing-alongs, Japanese style. My family are all tone-deaf so we spend more time laughing at each other than performing but we particularly love E-Star Karaoke bar in Southport's Chinatown. You can hire a private karaoke room for five people from $39/hour and bring your own food and drinks.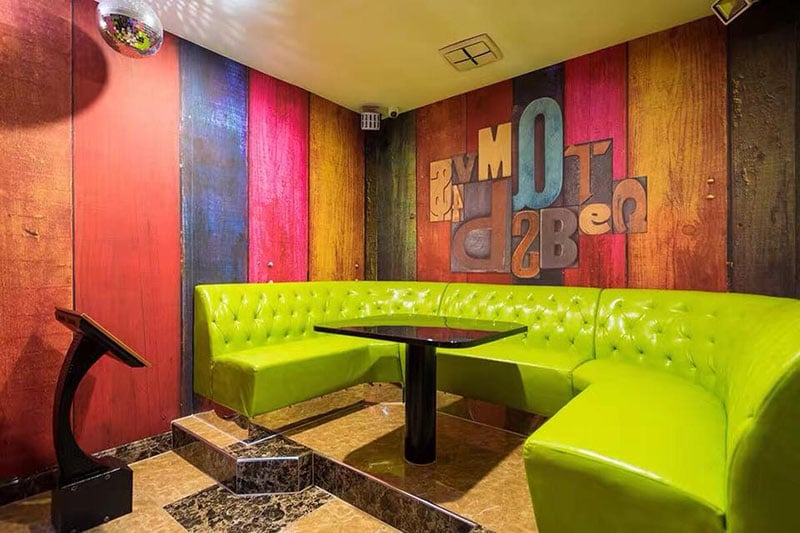 E-Star Karaoke, Southport
4. Make like a tourist
I lived in London for over 10 years but never visited many of the famous attractions like the Tower of London or Madam Tussauds as I wrote them off as tourist fodder. I jogged around the Greenwich Observatory every morning for several years without ever paying to go inside.
Locals often overlook the many obvious attractions on their doorstep. Of course, we've all done the big theme parks on the Gold Coast at some point of other, even if we don't hold an annual VIP pass, but there are many smaller or new indoor entertainment centres to explore on a rainy day (maybe just the one rainy day though; they can be quite expensive). Grab a Gold Coast tourist booklet to find out what the outta-towners do with the kids when they visit the GC or take a look on TripAdvisor.
Here are a few that may have flown under your radar:
In groups of two to six people, you are locked in a themed room and have to use the clues and objects within to work out how to escape. You have 90 minutes to complete the task and there are six different adventure rooms available to challenge you. My family failed miserably to work out who murdered the victim in the wine cellar ... and that was with extra time and a ridiculous amount of help from staff via the intercom. The previous party of primary school kids completed same escape room in 45 minutes.

Alternatively, try Padlockd in Surfer's Paradise.


Escape Hunt, Southport

Indoor skydiving. Float on a column of air in a giant glass tunnel.No jumping out of aeroplanes. What could be more fun?

Billed as

"

Australia's first immersive, 'trick-art' gallery"

, this place is an Instagramer's playground! 1,400 square metres of optical art masterpieces in six themed zones. The museum staff are on hand to help you find the best positions for your selfies as you become part of the art.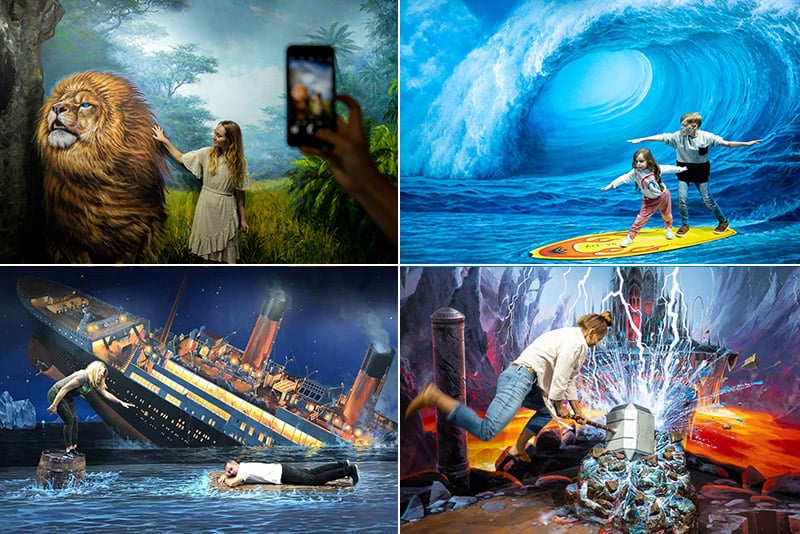 ArtVo, Robina
This is an odd one: A café, attached to a mock living room set-up, where 14 friendly felines roam freely to be stroked, cuddled and petted. Heaven knows how it got past Health & Safety but my pet-deprived children went wild for this place. You can pay for a 50 minute or 25 minute session with the cats and purchases from the café itself are optional (we didn't bother, although their coffee came third in a recent Gold Coast Bulletin poll).


Crazy Cat Café, Surfer's Paradise



Infinity, Surfers Paradise

This has been around for ages but have you ever actually been in? I love this place: Imaginative, beautiful, challenging, artistic – this is a 'world' of different rooms, mazes and spaces to explore (and find your way out of!). A bit too scary for the littlies and physically demanding for anyone wobbly on their legs (I once took a great aunt who struggled with the different levels and uneven footing, given her two artificial hips. I had to leave her stranded in a pitch dark room on a wobbly rubber floor, supporting herself by grasping the fake arms that extended from the walls, while I desperately sought the exit on my hands and knees. Never again!). Lots of fun though. My kids never get bored of it.

The world's first 'Holographic Entertainment Centre'. Interact with moving holograms and be amazed by 3D special effects in a range of holographic experiences - from a planetarium to a virtual Superman-style fly over the Gold Coast or an immersive action game. Participants play alone in one of 40 hologram rooms. Has to be experienced to be appreciated.
Holoverse, Southport
5. Get arty-crafty
Gold Coast's

HOTA

(Home of the Arts) in Bundall runs creative arts workshops, children's theatre performances and fun family activities throughout the year.


Bunnings offers a range of interesting DIY workshops and art classes for kids on Saturdays and in the school holidays. Contact your local store for details.


The Sweet Fine Artist Studio (Mermaid Beach) runs two-hour art classes for children on Saturdays and during the school holidays.
6. Use the rain
Make the wet weather the central attraction and set the kids a rain-based project:
Measure it

Make a rain gauge and find out how much rain you're getting and record your results.



Plot a chart to compare day-on-day rainfall (if experiencing a long spell of rainy weather), compare to water fall in a shower or go online to see how the rainfall compares with the previous year.

Combine your results with wind speed, wind direction and air pressure for a full weather report.



Paint it

Get the kids to paint/draw the soggy scene they see outside the windows … or the raindrops on the window. Even better, bundle them into the car, find a shelter in an area of natural beauty and paint the view in situ. I have children with no interest in art whatsoever but they love the drama of huddling in a covered picnic area with an artist's sketch pad and a tin of pastels while the rain drenches everything around them.

Some fun rain themed painting and art activities for children when it's wet outside are:


Survive it

Kids love making dens, forts and cubby houses. Challenge them to make a waterproof shelter outside in the rain using a selection of materials (tarps, inflatable pool toys, umbrellas, plastics etc). Don't send them out in a storm, obviously, but see if they can construct a small refuge that would protect them from the elements … and then serve them afternoon tea in it.
7. Declutter
Make a wet day an 'Op Shop Day':
Get the whole family involved sifting and sorting through old clothes, toys and clutter then take the unwanted pre-loved items to the local charity shop. Visit a selection of op shops and let the kids use their pocket money on games, toys and dress-ups that they can enjoy for the rest of the wet day. (Of course, this may incur an additional day to declutter the house from the new purchases but at least some cheap entertainment may be derived from the exercise.)
8. Check out Gold Coast libraries and shopping centres
Gold Coast City Libraries run a wide range of free or low-cost activities for kids and teens throughout the year, including coding and robotics, art and craft, stop-motion animation, lego and electronic music.
The larger Gold Coast shopping centres often run school holiday and weekend activities. Visit their websites for further information:
Related Blogs