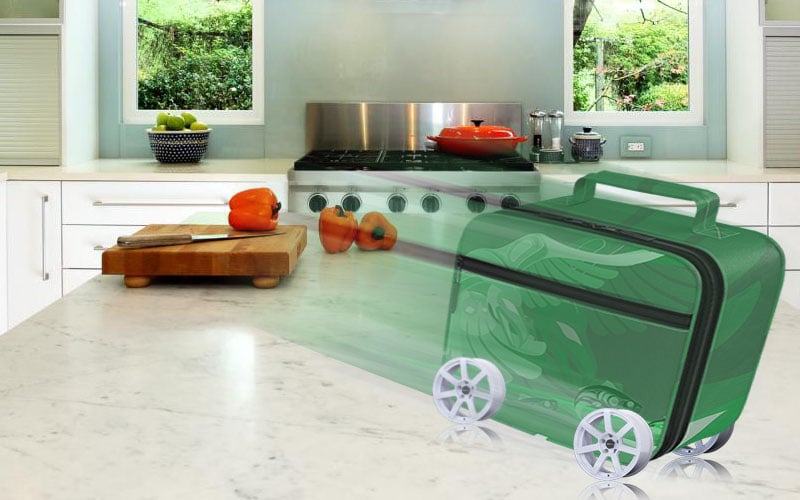 There are some wonderfully creative, thoughtful parents who scour Pinterest for novel ways to present a sandwich or jazz up the contents of their kids' lunch boxes. And then there are the frantic, time-short parents whose main concern is how quickly they can throw together some (healthy-ish) packed lunches before dashing to work/doing the school run. This blog is for the second category.
Need some strategies to speed up morning lunch box prep? I have nine:
1. Keep it simple - pack less
While variety and presentation may make a lunchbox more appealing, there is no need to cut sandwiches into novelty shapes or stuff a bento box with a myriad of tiny snacks and options. If you're time short, keep things simple. A piece of fruit and/or veg, some protein and some carbs should do it. (See our blog: What's for Lunch?)
Many parents make the mistake of over-filling lunch boxes and providing their kids with way too much food. One in four Australian children now have significant weight issues, largely due to habitual over-feeding.
Lunchboxes only need four or five items!
Leading nutritionist and dietitian, Susie Burrell, believes that even active, growing children need much less food than we think they do. She suggests the following as a guide to how much food children should consume for lunch:
Toddler (1-3 years)
1 slice bread + avocado = 140cal
100g yoghurt + fruit = 160cal
Primary School children (4-7 years)
Carrot sticks = 20cal
1 fruit = 80cal
Popcorn = 60cal
Chicken Wrap = 200cal
Pre-teens (8-12 years)
Cut-up salad = 60cal
1 fruit = 80cal
Popcorn = 60cal
Cheese and crackers = 150cal
Tuna and avocado bread roll = 250cal
Teenagers (13+)
2 pieces of fruit = 160cal
Chicken sandwich = 200cal
Tuna salad = 200cal
Cheese and crackers = 150cal
Nut Bar = 150cal
2. Prep ahead
I know many parents who make and pack the school lunchboxes the night before. This is admirable ... but I've never pulled this one off myself. Yes, I could make sandwiches 12 hours ahead but they wouldn't be particularly fresh or appetising the next day.
I do, however, like to start the school week organised, so I prepare many components of my kids' packed lunches in advance, particularly as I don't want to rely on too many pre-packaged convenience foods.
The trick to speeding up morning lunch box prep in my house is to do an hour or two of batch cooking/prep at the weekend, with a little supplementary prep on a Wednesday night, if time permits.
Weekend prep might include things like:
Slices/tray bakes, which can be frozen
Muffins (sweet and savoury)
Banana bread
Home-made hummus
Savoury pastries or quiches
Home-made muesli/cereal bars
Roasted chickpeas
Mini lasagnes (using muffin tins)
Fruit and veg such as carrot sticks and small bunches of grapes bagged into individual portions
Package crackers/nuts/dried fruits in individual containers
While I leave sandwich assemblage till the morning to try and keep things fresh, I will have fillings prepped and ready to go in the fridge, such as:
shredded iceberg lettuce
cooked chicken and bacon
ready sliced cheese
tuna and mayo
3. Get the right packaging
To keep food fresh and ready-to-go, it helps to have lots of air-tight containers and dinky individual-sized boxes. I admit to being a bit of an obsessive about sourcing great packaging; I'm always on the look-out for useful containers (eg compartmentalised boxes with a section for dip and a section for veggies) ... but they can be very expensive.
I've found that op shops are absolutely fantastic for finding cheap and interesting food containers - a particularly excellent find of mine was a small airtight box to hold crackers and spread that had a mini plastic spatula on the inside of the lid. It cost me 50c. I'd seen it in a flash kitchen shop a couple of weeks previously for $15.
Kmart and Target sell inexpensive food containers and the Japanese shop, Daiso (Robina Town Centre and Australia Fair in Southport) has wonderful little sauce containers and interesting boxes for a couple of dollars each.


Daiso boxes
4. Use the freezer (but not exclusively!)
When I was a kid, my mum had the great idea of making and freezing a week of sandwiches in advance, so that we could just pop a meat paste sarnie (yuk!) straight from the freezer into the lunch box and it would be defrosted and ready to eat by lunchtime. Except we lived in England ... so it wasn't. A childhood of eating frozen sandwiches has put me off this idea but food defrosts a lot quicker here in sunny Queensland, so you have more options. Of course, some sandwich fillings work better in the freezer than others.
Sandwich fillings that freeze well:
Butter
Cream cheese (full-fat freezes better than low-fat)
Cheese (except for cottage cheese)
Ham
Pesto
Peanut butter
Vegemite
Meat/chicken
Mustard
Sandwich fillings that freeze/defrost badly:
Salad (tomato, lettuce, cucumber etc
Mayonnaise (will separate)
Cottage cheese
Avocado
Egg
I prefer to make sandwiches fresh in the morning (though I do keep a few ham/cheese/mustard sandwiches individually wrapped in the freezer for emergencies).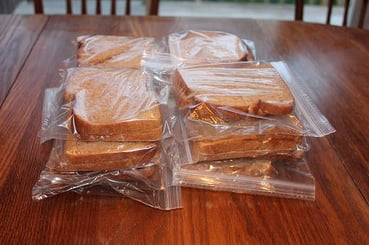 Credit: Rachel Sanders, BuzzFeed
However, the freezer is the school-lunch-maker's best friend for things like:
Tubes of frozen yoghurt
Scones
Cakes and slices
Hot cross buns
Individual containers of meatballs
Falafels etc
5. Set up a lunch station
If you've done your prep and have your lunch box components ready for the next few days, you can set up a lunch station in your fridge and/or pantry. Then you have everything at hand, ready for fast assemblage. Here are some examples: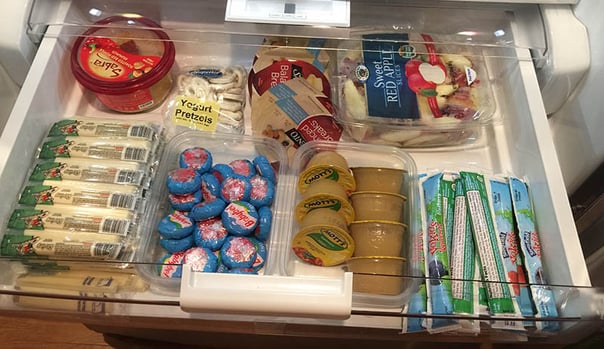 Credit: Ariel Greenlaw, Pinterest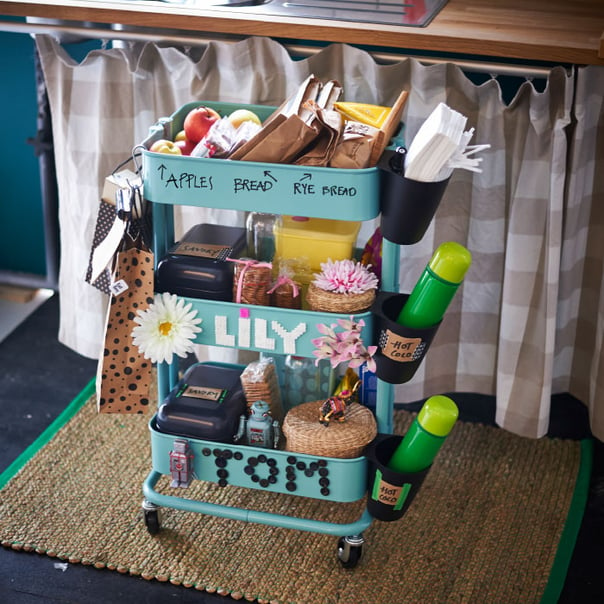 Ikea Raksog Trolley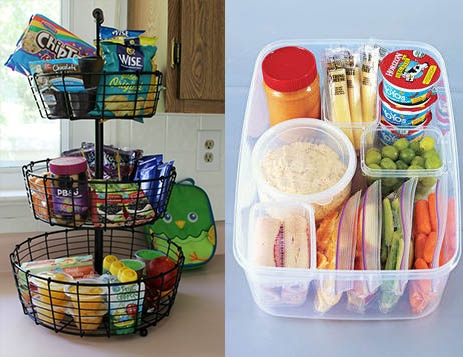 Credits: The Shirley Journey (left), Rachel Sanders, BuzzFeed (right)
6. Think outside the (lunch)box
There are many alternatives to the traditional sandwich that are quick to prep-and-pack, eg
Left-over pizza slices
Noodles or soup in a thermos
Crackers and spread (with a plastic knife)
Pasta salads
Hard-boiled eggs
For more ideas and inspiration, read our blog: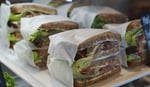 Despite my best attempts at creativity and variety, my kids have reached sandwich saturation point. Here is my hit list of sandwich alternatives.
7. Use last night's leftovers
Like many multi-tasking mums, mentally running through their internal workload as they cook dinner, I try to use my dinner prep time wisely. If I have the oven on, I might throw in some cheese straws or sausage rolls at the same time, which can be packed in lunch boxes the following day. Or I'll slice extra carrot sticks to box up with dip, while I'm preparing vegetables. I always have an eye on repurposing dinner left-overs for the next day's lunches. For example:
Meatballs or sausages (with a cockt

ail stick)

Strips of seasoned chicken

Chilli or curry with rice in a thermos
Garlic bread
Side salad
Slices of pie
8. Pack 'do-it-yourselfies'
My kids are quite happy to assemble their own sandwiches in situ so sometimes I just butter them a couple of slices of bread and pack with small boxes of cream cheese/chicken and leave them to it. Other ideas might include:
Cruskits/Ryvita and spread (they go soggy if you spread in advance)

DIY 'Lunchables' - crackers with small portions of cheese and ham
Plain pitta bread with separate box of salad/grated carrot/cheese etc.
Plain Greek yoghurt with small container of honey and/or granola
Don't forget to include plastic cutlery and a serviette, where necessary!
9. Pass the buck
By High School (at the latest), your kids should be able to prepare and pack their own lunches. Younger children should be able to assemble their own lunch box, if you've prepped the components or set up a lunch station.
Of course, when kids are responsible for their own lunches, there's the risk of them packing a box full of snacks and sugary nastiness, so it's important to establish rules. Here's an example checklist you could stick on the fridge: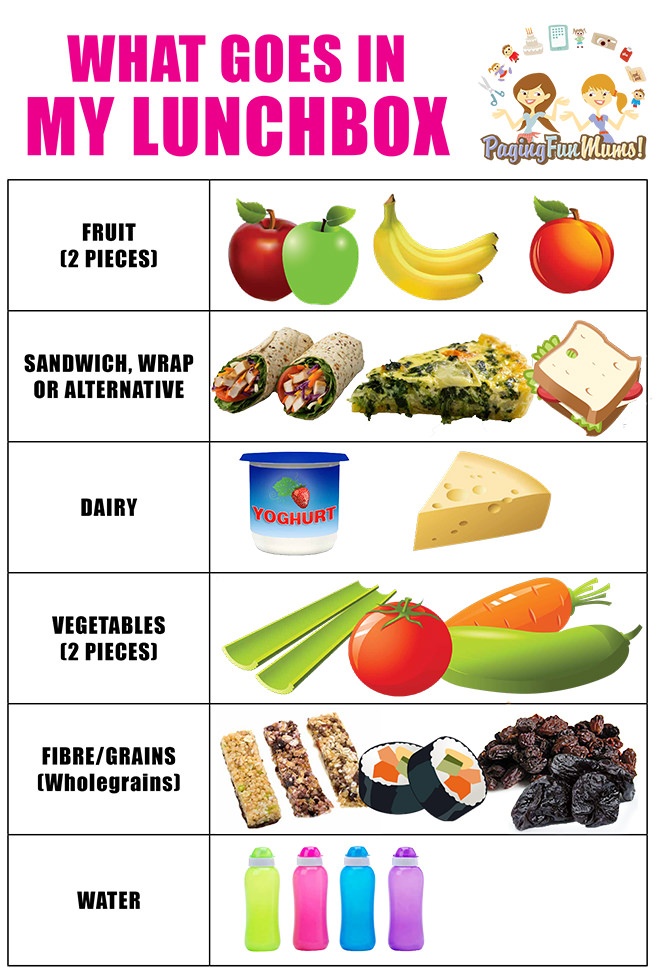 Credit: mumsgrapevine.com.au

Or, if you are super-organised (which I am not), you could set up something like this: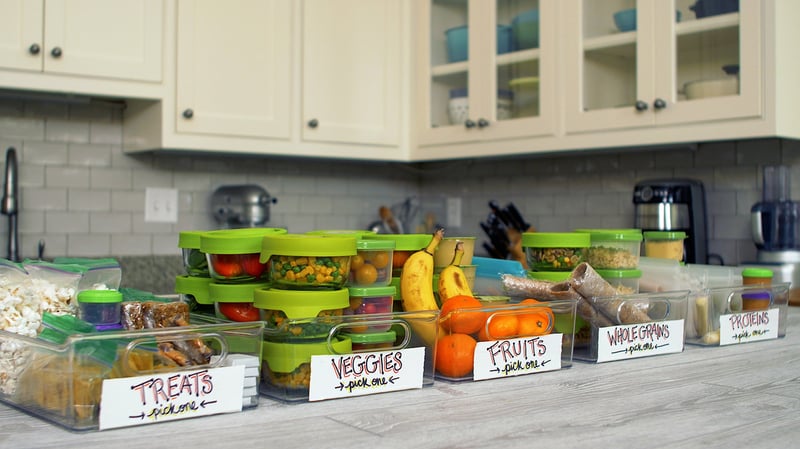 Credit: eatingwell.com
What is important is that children get involved with their lunch prep from an early age, even if it's just contributing ideas as to what they would like to eat. Bake with them at the weekend. Get them to slice up fruit and veg, box up snacks and fill their own water bottles. Pass over the responsibility step-by-step so that you don't find yourself still doing their lunch boxes when they're 16.
Failing that, there's always the school canteen!


How do you speed up your family's lunch-box prep? Share your tips in your comments below.
Related Blogs