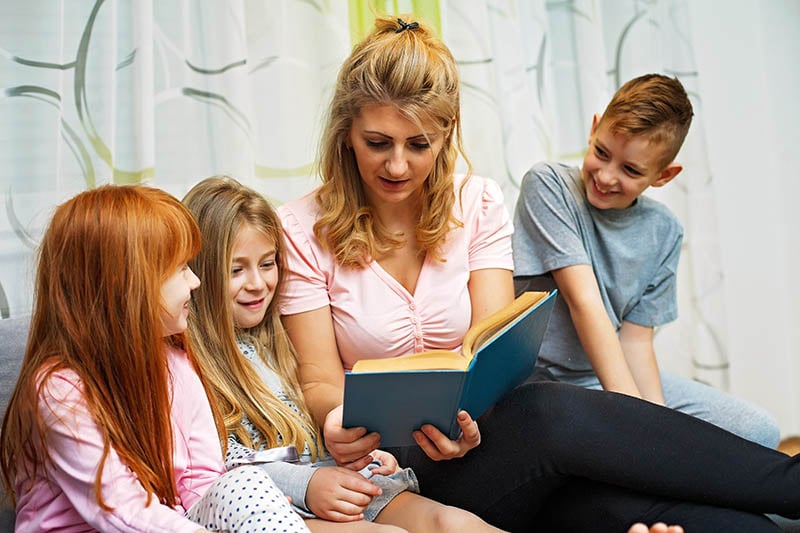 Yes, I still read to my ten-year-old. He can read perfectly well by himself and will happily immerse himself in Harry Potter, Lemony Snicket and a wide range of non-fiction but I will still read a chapter or two of a cracking good novel to him most nights.
Why? Well, you will find a few good reasons in our previous blog, When Should I Stop Reading to My Child?. But for me, it's a very special time we share together. We get lost in adventures we cannot wait to return to the next night. We meet quirky characters, travel through time and laugh, cry or gasp as plots twist in unexpected directions. We uncover subjects and scenarios that stimulate conversation long after the last page is read. But mostly, I do it because he still wants me to. It's a special time for him too.
So, what does one read to the sophisticated pre-teen these days? Generally I avoid anything that my child could read easily on their own. I try to pitch a bit higher than their reading age or life experience, which exposes them to new vocabulary or narrative styles and/or gives us an opportunity to discuss difficult themes together. So mainly I'm looking at teen or adult books or 'classics' (such as Tom Sawyer). This may mean reading a book first to ensure I am comfortable with the content and that I feel it is appropriate for my child, although it is wonderful to explore an unknown book at the same time as my son (as we did with R. J. Palacio's "Wonder", see below).
Sometimes, however, I do 'dumb down' and read my son a far easier book, at his request. He has his own particular favourites - books he has discovered on his own and wants me to know about. I am happy to be invited into his world and love the shared culture we are developing together.
Any list of top reads is going to be subjective but the following books were our particular favourites:
"Wonder"

R. J. Palacio, 2013
A boy with a severe facial disfigurement joins mainstream school for the first time. This moving and uplifting story is told from multiple perspectives - the boy, his sister, his friends.
My son and I loved sharing this book together. We laughed, we cried, we talked about it for weeks afterwards. Highly recommended.
"The Hunger Games"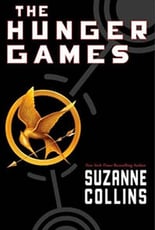 Suzanne Collins, 2008
Confession: There's no way I would let my ten year old watch the movie of this (it carries an M classification) but he found the book completely un-put-downable. [And bedtime got later and later!]
This tale of teenage gladiators in a post-apocalyptic America has some difficult themes, so it is a good book to read with your child. I read the book alone first to check I was comfortable about reading it to my son. Great writing and storytelling.
"A Really Short History of Nearly Everything"

Bill Bryson, 2008
This is the kid-friendly version of "A Short History of Nearly Everything" and is a great non-fiction book to enjoy with your pre-teen (I learnt as much from it as my son did!). Bryson describes the major scientific discoveries that have lead to our current understanding of the world. The accounts of how scientists made their discoveries are frequently hilarious.
"The 13 Clocks"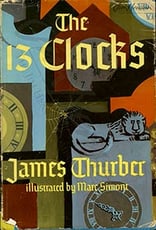 James Thurber, 1950
This comical, quirky classic will entertain adults as much as children. It's a mash-up of fairy tale, fable and poem - full of word-play and wit. A short, fast read with many memorable characters.
"Treasure Island"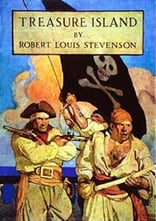 Robert Louis Stevenson, 1883
Classic children's story full of pirates, treasure and adventure. Suspense, expressive language, unforgettable characters ... and worth reading to your kids just for the opportunity of using your best pirate accent.
"A Wrinkle in Time"

Madeleine l'Engle, 1963
I am half way through reading this science fiction novel with my son and we are completely gripped by the mysterious plot and unusual characters. Although written half a century ago it does not feel outdated but has a timeless quality - which is handy, given that it is a story about time travel. "A Wrinkle in Time" is the first of a series of five. I anticipate we will read the next four books in fast succession.
"War Horse"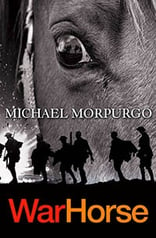 Michael Morpurgo, 1982
The story of a farm horse's experience serving on the Western Front in the First World War, told from the perspective of the horse. Not personally my kind of thing (though a very well written book - now a famous stage play and film) but my son loved it. Prompted many discussions about the First World War.
"The Blackthorn Key"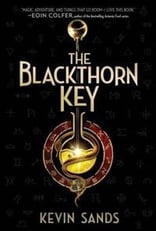 Kevin Sands, 2015
We loved this book, set in 17th century London. A young apprentice apothecary sets out to decipher cryptic codes and solve mysterious puzzles, following a series of murders. But his own life is in great danger as he gets closer to the truth. Riveting from beginning to end.
"Three Men in a Boat"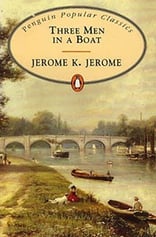 Jerome K. Jerome, 1889
Over a hundred years old but still soooo funny. This was my grandad's favourite book and I first read it on his recommendation as a teen (despite my initial misgivings over the title and book cover). Jerome's anecdotal tale of three Victorian gentleman bimbling down the London Thames by rowing boat is a hoot. Quintessentially English, with lots of period detail, yet accessible and easy to follow - Jerome was a journalist, after all. The famous scene where everyone gets lost in Hampton Court maze was my kids' particular favourite.
"Holes"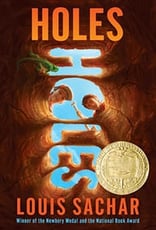 Louis Sachar, 1998
A complicated mystery novel, with intersecting stories, that jumps around in time and space. Funny and moving, "Holes" teaches the reader about loyalty, friendship and not judging others by their looks - or by their unfortunate mistakes in life.
For more inspiration on what to read to your child, try the Children's Book Council of Australia Awards shortlist, or the Dymock's Top 51 Kids list, which is voted for by kids for kids.
Do you still read to your pre-teen? What books have you enjoyed together?


Related Blogs