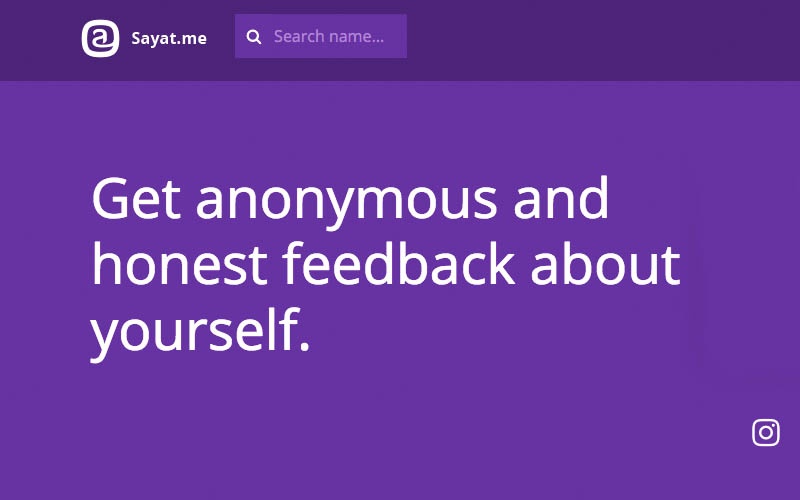 It's an app that trades in anonymous criticism. It has 30+ million users and relays over a million 'feedback comments' a day. It is hugely popular with teenagers, although most parents have never heard of it.
If you don't know what Sayat.me is, you'd better find out fast. Ask your teenager for starters. Chances are they're already using it.
Promoted as "a feedback tool meant to gather honest and constructive feedback from friends, colleagues, acquaintances or others" (anyone, basically), Sayat.me is the latest teenage craze and an open invitation to trolls and cyberbullies. It allows users to ask others (read: anyone) to tell them what they think about them. Anonymously.
"You're really pretty"
"I find you kind of annoying"
"You need to lose some weight"
"Your girlfriend is cheating on you"
That kind of thing. It's enjoyed by giggly school kids who see it as gossipy, flirty fun, and businesses looking for consumer feedback. But being anonymous, it has its darker side.
Last month (May 2017) a 15-year-old British boy took his own life following a torrent of malicious negative 'feedback' on Sayat.me.
How Sayat.me works
Subscription is free. It takes 20 seconds to sign up and requires full name, a password, email address and date of birth. Users must be 18+ but can join from 16, providing they have "valid authorisation from your legal representative". However, no age or permission checks are undertaken, ie nothing on Sayat.me stops your 12-year-old signing up.


Users get a personal Sayat.me URL that they display on their other social media accounts (eg Instagram, Snapchat, Twitter, Skype).



Examples of Sayat.me links published on social media:




They are prompted to post a question they would like to receive feedback on. Examples provided include:




What do you think about this picture?

What do you think is my worst quality?

What is my most annoying habit?


Anyone (whether or not they are registered with Sayat.me) can then click on that URL, be taken to the Sayat.me site and leave their feedback, whether good or bad ... anonymously. No-one will ever know who wrote it.


Sayat.me subscribers can choose to publish the feedback they receive for public viewing or keep it private.




If users 'friend' other Sayat.me users, they can view all their friends' feedback, both published and private.


Sayat.me subscribers may also design their own 'surveys' to get feedback on anything from 'What should I wear to the Year 12 formal?' to 'School Project Ideas'. Unlike general feedback, surveys may be marked 'private', to be accessed only those given a unique URL.
What's the appeal?
To most adults, the idea of requesting and publishing anonymous personal criticism is at best narcissistic, at worst masochistic madness. I personally can't think of anything worse. But if I think of the mass of contradictions I was at at 14 or 15 as I tried to make sense of the world and find my own identity, I can understand the draw for teenagers.
This a demographic desperately concerned about other people's opinions of them. They want affirmation from their peer group, to be valued and appreciated by people outside of their family. Sayat.me appeals to adolescents' vanity and insecurities. It gives them fast feedback via unqualified market research ('Should I wear this dress?', 'Would this haircut suit me?', 'What sport am I best at?'). It helps them track gossip, find out who or what is 'in' and share amusing comments with their friends. It allows them to do their own online PR and publish their best reviews.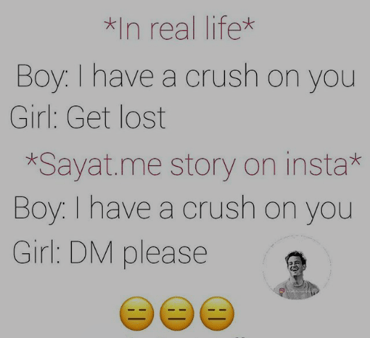 There's also the fun of guessing who posted: Was that flattering comment from a secret admirer? Is it anyone I know? Like Valentine's Day 24/7.
And it's the perfect medium for pranksters posting fake feedback and spoof comments.
Where's the harm?
There are some useful applications for Sayat.me - polling opinion on films, fashion or soccer teams, for example. Or gathering private survey information for a school project.
But anything 'anonymous' carries risks.
Secret admirers aside, people do not generally give positive feedback anonymously. They are usually quite happy to be public in their praise. Anonymity is more likely to appeal to the backstabbers, the bullies, the jokers, the trolls and the sexual predators.
Anonymity presents teens with advice and opinions that can't be trusted.
Sayat.me gives teens a free pass to be sneaky and two-faced. They may think they're doing their friends a 'favour' by giving them their honest opinion. But why not do it to their face? It's hard taking criticism. Harder still when it's posted on your online profile with no explanation ... and faceless.
Sayat.me promotes gossip and leaves the vulnerable exposed to criticism that can make them paranoid and fearful. Teenagers often do not have the emotional maturity to cope with negative feedback (nor do many adults, for that matter). And being anonymous, Sayat.me leaves teens open to cyberbullying, grooming and abuse from total strangers as well cowardly acquaintances.
As users can respond and enter into a dialogue with their commentators (who retain their anonymity), Sayat.me is just plain dangerous. Do you know who your child is talking to? They don't.
What can we do as parents?
Last year at a King's seminar for parents, Australian cybersafety expert, Susan McLean, outlined the three key rules for protecting our kids online:
Keep all devices out of the bedroom.
Be a parent, not a friend.
Don't let your child do anything online that you wouldn't let them do offline.
We don't want to 'snoop' on our kids and we want them to develop their independence. We need to keep channels of communication open, be ready to listen and show empathy. But we are their parents; we care about them more than anyone they'll 'meet' online ... and we provide their mobile devices. If they're under 16 they shouldn't be on Sayat.me anyway.
For anyone who missed Susan McLean's excellent seminar, you can read her advice and parenting strategies in a summary here:
Have you used Sayat.me? What was your experience? Let us know in your comments below.